Would you like to learn how to make a beautiful cheese platter for a party or any gathering with friends and family? Well, that's exactly what we intend to teach you in this article. Putting cheeses together and presenting a complete and beautiful cheese platter is a real plus for your dinners, parties and other celebrations.
Here are our best tips from the French experts of Paroles de Fromagers!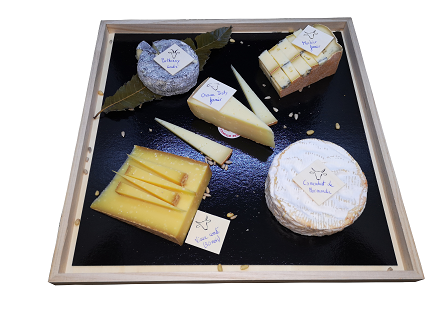 Which cheeses to choose to make a beautiful platter?
Let's start with the obvious! The choice of cheeses. The golden rule: enjoy and please yourself. However, in order to offer a complete cheese platter, there is another rule: the family rule. To compose a great cheese platter, we recommend you to represent several cheese families:
Fresh cheese
Bloomy-rind cheeses: camembert, chaource…
Washed-rind cheeses: époisses, pont l'évêque…
Pressed and non-cooked cheeses or 'semi-hard cheeses': reblochon, gouda, Monterey Jack…
Pressed and cooked cheeses, also known as 'hard cheeses' : swiss, cheddar, comté…
Blue-veined cheeses: roquefort, fourme d'Ambert, blue cheese…
Processed cheese: American cheese, cancoillotte…
Goat's cheese: crottin de Chavignol AOP, Bijou…
For a large cheese platter, you can represent 7 of these families. For a smaller platter, 3 or 5 families will be more than enough.
.
How to decorate a cheese platter for a party? 
Which condiments to add to decorate a cheese platter?
Among the condiments that go best with a cheese platter, you'll find:
Fruit preserves: figs, citrus fruits, gooseberries
Dried fruits: walnuts, hazelnuts, almonds
Honey
Fruit jellies: fig, black cherry, gooseberry
Fresh fruits: grapes, apples, figs
Truffles
Stewed fruit : slightly spicy mango chutney, apple compote
Which condiments go with which cheeses?
Acidic fruit preserves go very well with washed-rind cheeses, such as Epoisses de Bourgogne (Burgundy) AOP. Dried fruits go wonderfully with fresh or semi-dry goat cheese. Honey is great when paired with a very dry goat cheese. Hot honey will also go perfectly with Mozzarella, for example. As for fruit jellies, it depends on the flavor :
fig, the most versatile, it goes well with many cheeses
dark cherry: ideal with sheep cheese
red currant: perfect with a baked camembert or semi-dry goat cheese.
Let's talk about truffles now! A few thin slices of black truffles will go amazingly with a French brie, for example!
Finally, sour cherry preserves are delicious when paired with a mild swiss or a brie.
Come on! One more unusual pairing: very fine ground coffee goes deliciously with a good blue cheese. Write it down!
How many cheeses to serve on a platter?
Logically, it is a good idea to adjust the number of cheeses according to the number of guests. The more people around the table, the more cheeses are welcome on your platter. In addition, please note that French tradition is a little fussy about the number of cheeses to be presented. Actually, it requires that only an odd number of cheeses be offered: 3, 5, 7, 9 or more…
How to cut the cheese?
In order to take care of the presentation of your cheese platter, we recommend that you make pre-cuts. As a result, your guests won't have to help themselves. It will also add some volume and improves the aesthetics of the platter.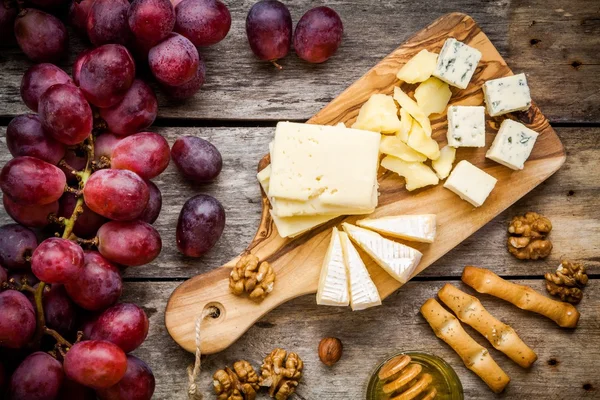 How to make a cheese platter for Christmas?
Do you want to prepare a cheese platter for Christmas ? Do not worry, it is all about following the advice we have given you throughout this article.
In order to present a colorful platter, choose brightly colored condiments, such as: fresh fruits, fruit preserves and fruit jellies. For an elegant and classy platter, opt for dry fruits and truffle: French elegance and style.
Finally, cherry on the cake: offer top-of-the-line wine and cheese pairings.
Oh, by the way! There are just here:
The 10 best wine and cheese pairing to match a cheese platter
What would cheese be without wine or a suitable drink? Here are our best cheese-wine pairing or cheese-drink and soft drink pairings !
A Morgon 'Les Charmes' from the French Brisson vineyard with an Epoisses from Burgundy.
A Pouilly fumé (dry white Sauvignon) or a Mâcon Pierreclos (Chardonnay) with a Sainte Maure de Touraine.
A Crozes-Hermitage with an extra old mimolette
A champagne with a 36 months old Gouda
A vintage champagne blanc de blanc with a summer beaufort or a chalet d'alpage
A sweet wine with a very old Comté, Swiss or Roquefort cheese
An old pineau des Charentes with an English blue shropshire or a blue cheese.
A hot jasmine tea with goat's milk cheese.
A Russian roasted tea with an old cantal
A raw cider with a French camembert
Bring this type of pairings to your table and you'll rock!
So, did you make it? Did you compose the cheese platter of your dreams ? Are you ready to taste your amazing cheeses with their condiments? Please, feel free to leave a comment with a picture of your cheese platter! We'll be so happy to give you our opinion!
Wanna learn more about cheese making, affinage and the different types of cheeses? Wanna learn how to make cheese by yourself? Discover our cheese making classes and workshops!