All About Halloumi: the Best Cyprus Cheese
31.08.23
Back to news
Let's discover a cheese that's very much in vogue at the moment: halloumi. This pressed, uncooked cheese belongs to the semi-hard category, like queso de bola, for example. Originating from Cyprus in Europe, it is at the heart of many delicious recipes and delights the taste buds of many cheese lovers. Let's find out all you need to know about halloumi in our article made in Paroles de Fromagers – France!
Where does halloumi come from?
Halloumi is a cheese from Cyprus, an island in the eastern Mediterranean. Its origins date back to Byzantine times, many centuries ago. Initially, it was developed by Cypriot farmers to preserve milk in hot, arid conditions, but nothing is clear about this. Indeed, some believe it to be of Bedouin origin. Originally, halloumi was made mainly from goat's milk and sheep's milk, nothing more. Today, recipes often vary and some producers add cow's milk, often for economic reasons. This is why halloumi made from 100% goat's and sheep's milk has become a rare and coveted product.
How is halloumi produced?
As explained above, halloumi is made from a mixture of sheep's and goat's milk, often supplemented with cow's milk. The milk is heated and coagulated using animal rennet or microbial coagulants. Once the curds have formed, they are cut into small pieces and heated again to expel the whey. These pieces are then pressed and salted, and immersed in whey for several hours, which contributes to the unique texture of this Cypriot cheese.
When ready, halloumi cheese can be eaten fresh or grilled: yum!
Which condiments go best with halloumi?
Would you like to add a little originality to your cheese platter, or simply discover new flavors? Most cheeses go wonderfully well with certain condiments, and halloumi is no exception! In fact, this sheep's milk cheese is particularly versatile. It goes very well with a variety of condiments and accompaniments. Here are the best condiments to enjoy with halloumi: 
Grilled vegetables: peppers, zucchini, eggplant;

Lemon and citrus fruits in general add a note of freshness;

Herbs such as mint, basil or parsley;

Olives;

Honey;

Sesame seeds;

nuts.
Is halloumi cheese healthy?
Halloumi cheese is relatively high in fat and sodium, so it should be eaten carefully.  It's not a particularly recommended cheese if you're on a diet, for example. Nevertheless, it is also a significant source of protein, calcium and vitamin B12.
The 4 best recipes with halloumi cheese
Did this article make you hungry? We are too! So here are 4 halloumi recipe ideas for you to enjoy! 
Grilled halloumi with vegetables 
The first delicious vegetarian recipe! Nothing could be simpler! Simply cut the halloumi into thick slices and grill (on the grill or in a conventional oven) until golden brown on both sides. Then serve with grilled vegetables such as peppers, zucchinis, onions marinated in olive oil, lemon juice, garlic and Mediterranean herbs (mint, basil…). A real treat!
Orange halloumi salad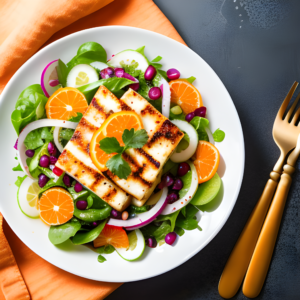 Here's a particularly original halloumi recipe idea: halloumi salad with orange. 
To make it, follow these simple steps: 
Cut your halloumi into slices and grill until golden on both sides.

Mix the slices with orange segments, black olives, arugula and red onions. 

Dress with olive oil, fresh orange juice, honey, mustard and red wine vinegar. 
A summer wonder! 
Halloumi wrap 
Fancy adding halloumi to a sandwich? Here's our Paroles de Fromagers recipe for halloumi wrap: 
Toast slices of halloumi 

Place in wrap tortillas

Add lettuce, tomatoes, cucumbers and avocado 

Garnish with a mint yogurt sauce to accompany
Yum…!
Roasted halloumi with honey and sesame seeds
Here's a little recipe that's perfect as an appetizer! 
First, cut the halloumi into cubes and roast until slightly crispy. Remove from the oven and drizzle with honey, then sprinkle with sesame seeds. Serve, it's ready!
Wanna learn how to make your own cheese?
Did you enjoy our article on the famous halloumi cheese from Cyprus? Then, let's find out all you need to know about mozzarella or provolone! 
Want to find out how to make your own cheese? Discover our cheese-making workshops and courses in Paris with real and human professionals!