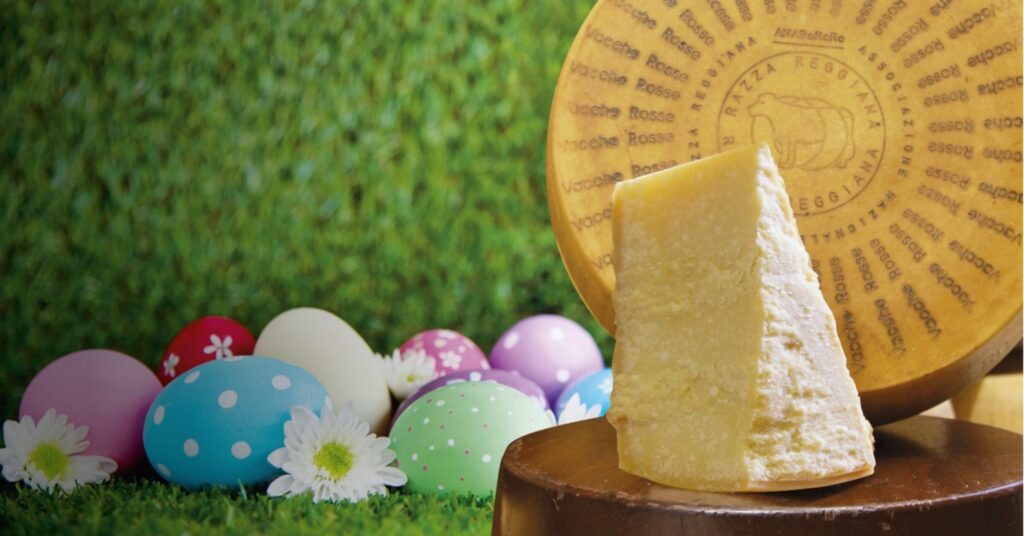 The Parmesan Cheese is one of the oldest and most popular Protected Designation of Origin cheeses of the world. It is an Italian cheese made with cow milk and it has a cooked pressed cheese. Usually, it tastes fruity and typical and can be found in many delicious dishes and recipes.
There are various types of parmesan cheese and among them, we find the Parmigiano Reggiano Vacche Rosse. This Italian parmesan is the best of all. It is a type of cheese made and produced from the milk of Red Reggiana cows (a breed) with special quality characteristics.
Want to know everything about the best parmesan cheese ever? Let's find out our complete article on Red Cow Parmesan!
Why is Red Cow Parmesan a premium Parmigiano Reggiano?
A parmesan 100% produced in Italy according to tradition
The Red Cow Parmesan is produced exclusively in Italy and comes from the Emilia-Romagna region. Moreover, the production method of Parmigiano Reggiano Vacche Rosse scrupulously respects the traditional techniques that make this cheese unique. By the way, this cooked pressed cheese has several qualitative characteristics that make it different from the classical Parmesan cheese, which is often mistaken for Grana Padano.
A parmesan that is better digested
Indeed, in the milk of Red Cows, there is a variant of casein (the protein used to transform milk into cheese). This variant makes the preparation better for long aging, thus offering a better digestion for the consumer.
Here we're talking about many months of affinage to guarantee an unparalleled quality.
If you buy Red Cow Parmesan, please note that it has been aged for many months. To be precise, the affinage lasts a minimum of 24 months. In fact, the regulation of the production of Parmigiano Reggiano Vacche Rosse requires waiting at least 2 years after the beginning of the affinage process to be able to market the product. On the other hand, the classic Parmesan cheese requires only 12 months of affinage to be presented for sale. You can expect an irresistible taste!
A sustainable and environmentally friendly cheese
Red Cow Parmesan is subject to strict regulations that ensure its unique quality.
Do you love animals and want to protect the environment? Please note that the cows are fed exclusively on grass, hay and certified GMO-free feed. Genetically modified food is absolutely forbidden.
In addition, you should know that any feeding technique aimed to intensify the production is 100% prohibited. Special attention is paid to animal welfare to produce the king of Italian pressed cheeses.
In the barns of Consorzio Vacche Rosse, producer of Vacche Rosse Parmesan, you can often find animals over 10 years old.
What are the nutritional properties of Red Cow Parmigiano Reggiano?
Thanks to the long affinage of at least 24 months, all the nutritional properties are brought to their peak. This cheese is very good for the consumers, and even for the babies and young children.
Parmesan for children
As explained above, this type of parmesan is particularly easy to digest. And this also applies for babies and children. This Italian cheese provides a good proportion of animal fats and amino acids, many of which are essential for the body functions. Thanks to its excellent digestibility, the youngest human beings can eat it without any risk.
The parmesan cheese for allergy sufferers
By prohibiting all forms of contaminants, such as antibiotics or pesticides, the specifications of Red Cow Parmesan are mostly very well tolerated.
Can you eat parmesan if you are lactose intolerant?
Well, the answer is yes. You may not know it, but there is no trace of lactose in this Parmigiano Reggiano, making it suitable for lactose intolerant people. This cheese will please a part of the population that usually cannot enjoy this kind of meal.
Parmigiano Reggiano for the elderly and teenagers
Although it does not contain lactose, the parmesan contains a high level of calcium. That's why we recommend it for people who suffer from osteoporosis. Young people in the process of growing can also benefit from its virtues. Feel free to add a bit of Vacche Rosse Parmesan to their food in order to make their bones stronger!
Parmigiano Reggiano for sport lovers
Parmesan is very good food for athletes, thanks to its high protein content. 50-60 grams of this cheese are equivalent to 100 grams of fish or meat with lower cholesterol content. In addition, Red Cow Parmesan is quickly digested (in about 45 minutes compared to 2 or 3 hours for meat), which is also why it is one of the best cheeses for athletes and sport lovers.
What wine goes with Parmesan cheese?
Our cheese expert's answer is clear: well mineralized champagne and prosecco are PERFECT. Enjoy an amazing Vacche Rosse Parmesan paired with these two delicious drinks.
Can you eat parmesan cheese if you're pregnant?
Let's not keep it a mystery for too long: the answer is yes. Absolutely! Pregnant women can enjoy this cheese during their pregnancy.
How to store Parmesan cheese?
The best you can do is to buy it little by little at your favorite cheese shop 😉! In order to keep it as long as possible, we recommend you keep it wrapped in the cheese maker's paper. For the largest portions, vacuum pack it and keep it in a fresh place with a temperature of about 12°C (54°F)
Find out everything you need to know about the best Parmesan cheese ever: the Parmigiano Reggiano Vacche Rosse from Italia in Europe! Yummy!