Provolone has always been one of the European and American people's favorite Italian cheeses along with Mozzarella cheese, Pecorino and Parmesan cheese. We are used to including it in lots of cooking recipes. But what makes the Provolone cheese so special and so loved? American cheese society? Let's talk about everything you need to know about Provolone Italian cheese. Let's go!
What are the origins of Provolone?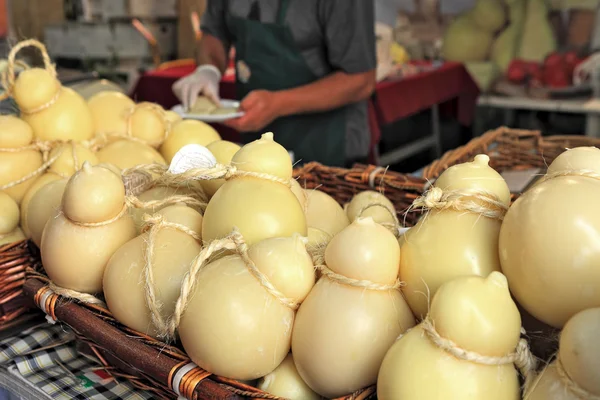 Provolone comes from the name 'prova' in Italian, which refers to a round shaped cheese in the campanian language. This popular cheese comes from Italy, and it is made with cow's milk. There are 2 types of Provolone, depending on the taste you are looking for. There is the spicy one and the sweet one. This difference of flavor is due to the time required for the affinage. The spicy provolone needs a 16 months affinage whereas the sweet one requires only 4 months.
You can find this singular cheese in the form of a sausage or in the form of in bunches. When you go to cheese stores, you can find many sizes of Provolone cheese. In some cheese exhibitions, versions of this cheese called 'provolissimi' can weigh up to 88 lbs. It is not over! There has also been a version of this cheese called 'provoloncini' which can weigh up to 440 or 660 lbs. We recommend you to eat provolone between June and October, right after the affinage is over.
It is also known by other names that recall the products whose shape it follows. The cylindrical variants are called salami or pancettoni, and the spherical ones are called meloni.
What are Provolone's flavors and aromas?
The sweet provolone has lactic aromas while the spicy type has smoky aromas. The taste of this Italian cheese becomes stronger with age and texture. These 2 types of provolone are perfectly complementary. They can be used to accompany dishes or eaten individually.
How to cook provolone cheese?
Aged provolone can be used in grated form, in pasta or in au gratin dishes. When it is in the semi-aged stage, it can be sliced and served as a roast. On the other hand, when it is covered with batter, you can eat it as an appetizer. You can also use it to make sandwiches when put on slices of bread or a mixed salad when it is cubed.
Some more dish ideas? You can add it to your pizza, Italian-style bruschetta or panini recipes. Would you like to taste all its flavors and aromas with a simple French recipe? Cut it in slices, add some salt, pepper and herbs and… yummy!
Some recipe ideas with Provolone
This cheese brings a gourmet touch to many recipes.  Here are a few dishes you can make:
Breaded eggplant chops with ham and provolone ;
Pizza with pepperoni ;
Macaroni and cheese, beer and pretzel,
Cherry tomato clafouti with basil and spicy provolone,
Macaroni frittata with eggplants and provolone,
Involtini with provolone,
Provolone pie,
Which wine goes with Provolone?
Rosé wines, such as Tavel rosé and Provence rosé are just perfect. Their southern France aromas match ideally with this Italian cheese. 
What to remember about Provolone?
With its distinctive aromas and soft texture, this delicious cow's milk cheese from northern Italy comes in many shapes and sizes. It can be eaten as a snack, as an appetizer or enjoyed at the end of meals, for example. Moreover, in many recipes, this cheese brings the best of itself and makes dishes unique.  It is also used in many American recipes, such as hamburgers, corned beef hash rustic pie or hot dogs.