Whether you are a cheese lover or not, you've probably heard of pecorino, the cheese that makes Italian people very proud. Thanks to its texture, its taste and its delicious different varieties, this cheese has progressively been included in many recipes. In this article, we invite you to meet the Italian cheese par excellence, the one that accompanies many chefs. Find out everything about pecorino!
What is Pecorino Cheese?
Italy has always built its gastronomy reputation with their pasta, pizzas, wine and obviously, their cheese. From all over the country, these meals have always represented the identity and the cultural power of the European country. This gastronomy no longer has any borders and pleases the taste buds of thousands of people around the world.
Among the culinary marvels offered to the world by Italy, you'll find the pecorino. It is a pressed cheese made from sheep that comes in 5 varieties from different regions of Italy. Generally, it depends on the breed of the sheep and the affinage method. It is one of the oldest cheeses ever made in Italy. Today, it goes well with wine, beers and pasta, of course. It can also be used as an ingredient to cook many recipes. It can be grated on pasta, added to risotto, or even used to make a sauce. Furthermore, it has a strong and salty taste, with an aromatic flavor.
In many recipes, pecorino replaces parmigiano-reggiano cheese.
The different varieties of pecorino
Depending on the affinage method and time, on the sheep breed and of course, on the particular touch of each region, there are 5 varieties of Pecorino with a Protected Designation of Origin (PDO).
Romano
This is the Tuscan Pecorino. It is aged for 5 to 12 months and weighs around 66 pounds on average. Usually, it is cylindrical and has a mild flavor. The pressed and cooked paste is compact, firm, crunchy and brittle. It is the perfect ally of pasta and a good companion of crème fraîche. This cream perfectly enhances the salty taste of the cheese and counterbalances the crunchy aspect to give meals an ideal texture.
Sardo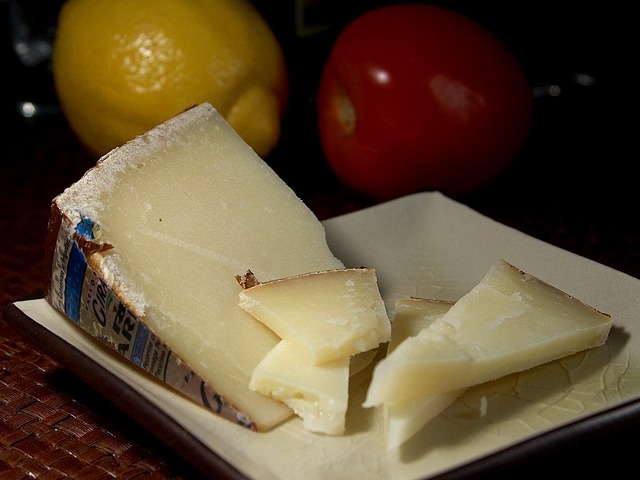 This variety of pecorino comes from Sardinia. It is round and weighs between 2.2 and 6.6 pounds. The dolce is aged for 1 to 2 months, while the maturo can be aged up to 8 months. The difference between these 2 varieties is that the dolce is prepared with veal rennet while the matiro is made with lamb rennet. Le dolce is white-yellow and elastic with a floral touch. The maturo is more intense, with a salty and pungent taste.
Toscano
It is legen…dary cheese. Its affinage lasts 1 to 6 months, and the result is a yellow or brown-yellow cheese that becomes crumbly and salty. The rind is being rubbed with oil, and it has fruity flavors. It is cheese you can eat at any time of the day, even alone or with a good wine.
Siciliano
Born in Sicily, this cheese is aged for 4 to 12 months and usually weighs around 17 pounds. It also has a yellow color, and some variants are covered with black pepper. The Siciliano is salty like the pecorino Romano and crumbly like the Toscano.
Di Pienza
This variety also comes from Tuscany and weighs more or less 3.3 pounds. At first, it is mild and elastic and the more it ages, the more it becomes crunchy and firm. At the beginning, it has a floral and fruity flavor and later reveals hints of roasted hazelnut. The affinage can last between 1 and 4 months.
These were the PDO pecorinos, but there are some others, such as:
Crotonese pecorino (Calabria)
Pecorino Delle Balze Volterrane (Tuscany)
Di Filiano pecorino (Basilicata)
Di Picinisco pecorino (Abruzzo)
Now that you know the different types of pecorinos, let's learn how to pair them with wine!
Pecorino Wine: the best pairing
To get the most out of a good Italian cheese such as pecorino, you must know how to pair it with a good wine. No worries, we are here to help! To pair perfectly with a pecorino, we recommend you to choose a white wine with a lot of fat. You should avoid sweet and syrupy wines.
At Paroles de Fromagers, we have tested the Viognier from the northern Rhône Valley with pecorino. And how to tell you…it was pure wonder! Indeed, the fat of this sheep's cheese and the fat of the wine will slide perfectly on each other, just like a surfboard. A real treat! You can't find this wine in your country? No worries, a 'fat' wine is more commonly called a full-bodied or a smooth wine. A great Pinot gris or a white Grenache will be amazing, too.
How long can you Store Pecorino?
This Italian sheep's cheese (not goat's, don't get it wrong!) can be stored for a long time. As it is dense and not very humid, you can store it in very good condition for many days after opening. To keep it healthy for even longer, we recommend you wrap it under vacuum. If you wrap it in a thermal box after each use, you will be able to store it for about 2 weeks.
In order to know more about the art of storing cheese, please feel free to read our article: How to store cheese properly?
How to Cut Pecorino?
Do you want to offer a beautiful platter to your guests? Then, you should know how to cut cheese properly. And today, you'll learn how easy it is to cut pecorino.
The best way to cut this pressed cheese is into thin slices. This is both the prettiest presentation and the most practical for this cheese. However, you can also cut it in small slivers for an appetizer or in a classic slice when it is cheese time, and you want it during a meal.
Can I Eat Pecorino if I am Pregnant?
Ladies, if it is pasteurized, you can consume pecorino without any trouble. Actually, you can also eat it if it has reached the so-called Stagionato, stage of affinage, which means it has been aged for more than 6 months.
Which Dishes should I Cook with Pecorino?
Want to add some pecorino to your daily recipes? Here are some examples of dishes to cook with pecorino to enjoy 😋 :
Pesto sauce with pecorino: to eat with Italian pasta
The pasta carbonara revisited (you replace the Parmesan with this sheep's cheese)
Four-cheese French bread pizza
Pecorino crackers
Italian burger with veal and pecorino
Which Condiments can you Pair with Pecorino??
Have you ever thought about it? Pairing cheese with condiments is pure wonder when you know the best combinations. Hold on to your hat…pecorino cheese is great with…onion confit! Yummy!
When it is served on a cheese platter or simply added to your bread, onion confit will enhance any type of pecorino.
Please, also note that pecorino goes very well with watermelon in a fresh summer salad, for example.
Want to find out the best condiment/cheese pairing?, Please read our previous article: How to make a cheese platter for a party?
 Facts about Pecorino you'd love to Know 
Pecorino cheese dates back to ancient Rome.
Pope Pius II loved it so much that he had the wheels of cheese produced by his favorite farms branded with red iron.
Pecorino means 'baby of the sheep' in Italian.
It can be prepared and found with pepper.
Would you like to know more about cheese-making? Please feel free to take a look at our cheese-making courses and workshops with French experts located in Paris!